Client love…
about our business and life coaching together
Krista Quinn
Yoga & Movement Therapist
"Connecting with Elizabeth has been so wonderful. I feel an energetic shift that's allowing me to open to abundance and Elizabeth helps me to believe that I'm deserving of the life that I want. Within 1 month of working together, I've INCREASED MY RATES (I started charging 2x & 3x more), with 95% of my clients making the transition, and have also ATTRACTED 5 NEW HIGH PAYING CLIENTS! I am so very grateful. I also feel like I understand how to organize the back end of my BUSINESS IN AN OPTIMAL WAY and setting up this foundation wouldn't have been possible without her guidance! Looking forward to the rest of our work together, and to continued growth!!"
Watch my interview with Krista here
Rebecca Kase
LCSW
Author, speaker, CEO of Rebecca Kase & CO
"I am so grateful to have found Elizabeth. We have been working together for only a few months and I've experienced so much growth and abundance in my skills and business as a result of our work together. Elizabeth will become your biggest cheerleader, always cheering and celebrating you on. She is an incredible database of knowledge and always has so many helpful resources, insights, and shares. I don't know how she stores so much information! She is great at listening, at keeping you accountable, and focusing in on the areas you want to improve and grow in. Since we've been working together, I have SIGNIFICANTLY increased my business income, become a more confident entrepreneur, and have created business stability for continued growth and prosperity. She is one of my greatest resources and the reasons for my success."
Gigi Godin
CEO Acadia Recruitment
"I've had the pleasure of working with Elizabeth as a business coach for a few months now. It's unbelievable the confidence and tools she's given me to launch my own recruiting business! In only 2 weeks I scored my first client! (20k)
Elizabeth's a bubbly, fun person to work with, and a very strong motivator. Every time she gives me great tips on how to launch my business properly, create marketing content and so much more! I strongly recommend her to any woman who needs a strong hand to hold, to build confidence and the fun part, make money! I could not have made it without you. Best decision I ever made!"
See how Gigi 5x her income in 1 year!
Cheryl Margo
Life Coach & Educator
"Elizabeth is a unique gem of a coach. She is so generous in spirit and I feel so encouraged and supported. She has an incredible wealth of knowledge (like gold!) and shares it with such speed and succinctness that has yet to be matched by anyone I have ever met. She was so patient with me and gave me so many great tools and ideas of how to work through my resistance, particularly in the area of sales and receiving money! If you are looking to create success, hold onto your seat because this woman will rock your business world."
How Shantell doubled her income in just 3 months…
 When she decided to get SERIOUS about making some BIG, beautiful business and life changes, she went all-in on the coaching + her goals, did the work, followed a proven system and got fantastic results.
She wanted to double her income, so she set the initial income goal of 250K+ in 12 months. By staying on track with applying what she was learning, she didn't even have to wait the whole year - she doubled her income in only 3 months!
And now that 20k+ is her new monthly norm, we're focused on manifesting even bigger, more aligned goals.
But it wasn't just about the money… in addition to realizing her business goals, she also created more happiness, mindfulness and loving relationships in her life. Check 🎯 Check 🎯 Check 🎯
You can catch the jubilant goals update in this 5-minute video snippet from one of our Business Fast-track Formula (BFF) group coaching sessions.
[To get on the Business Fast-track Formula waitlist or to learn more about this quick-results program, head over to the Courses menu on this site.]
Watch Shantell's Success Share Here
Fatima-Zohra
Khechai
Branding Consultant
"Having Elizabeth as a coach was one of the BEST DECISIONS I have made in my life. Indeed she was my first mindset coach and thanks to her business experience she also gave me valuable coaching for my business. Always ready to help, she had a BIG PART IN MY TRANSFORMATION."
Rachel Bachmann
IT Software Expert & University Instructor
"I've had Elizabeth as a business coach over the last 6 months as my start-up went from having just one client to being BOOKED SOLID. Her advice's been invaluable. She's always there to bring me insight on what REAL problem I need to solve right now and proposing a variety of alternative solutions. I'm looking forward to my next session already!"
Here's what happened for Heather within only a few months…
While attending one of my online events, Heather quickly aligned with her potential, dreams and BIG goals.
She launched her dream business, quit the old low-paying job she'd been stuck at for 15 years, got her 1st client with a few weeks, then secured 5 clients the following month and 4x her income (which also freed up more time to spend with her family).
Anju Suddul
Partnership Manger
"Meeting Elizabeth at the time that I did was meant to be. I love her personalized approach - she chose the right tools and techniques to guide me through these tough months after losing my job. Our coaching sessions helped me unlock the BEST version of myself, brought down the walls that I had created on the path to success and happiness, as well as helped me land my GREAT JOB (that not only hit my target salary but most importantly really lines up with creating the type of career and impact I want to have). If you're thinking of starting life coaching, DON'T OVERTHINK IT, JUST GO FOR IT - you'll thank yourself after! I know I did, many times over!"
Viviene
Ogugua
Astley
Senior Business Advisor & Entrepreneur
"My coaching with Elizabeth has been TRANSFORMATIONAL. It's been instrumental in me choosing a different, happier path - one that I'll be HAPPY to CONTINUE FOR LIFE, always developing and growing! I've made much progress to date including developing new habits and routines. I like to think of a coach as the one who helps you to hear and see those things that you WANT to hear, see and do, but, for whatever reason, have not been able to. That's certainly what Elizabeth's done for me!"
Israa Hilles
Founder of Escritoire Inc.
"Elizabeth has been instrumental in helping me keep my eyes on my big goals. I FELT EMPOWERED, ENTHUSAISTIC and FEARLESS. With Elizabeth's coaching, I smashed through barriers that were holding me back. In a relatively short time, I developed the know-how and courage to launch my business. Will has been an unbelievably powerful resource for me!"
Jessie Curell
Director of Hands On Media Education
"Elizabeth has been a business coach of mine since Day 1 of my beginning my small business, and I cannot recommend her enough!! Her sincere interest in helping her clients succeed, combined with the incredible wealth of knowledge she possesses, plus the way she provides really interesting and creative solutions to any number of challenges start-ups face as the go along - Elizabeth is THE triple threat of coaching. Thank you Elizabeth you rock!"
Melani

Sessa
Entrepreneur & Social Marketing Expert
"Working with Elizabeth was very valuable. She helped me to refocus my mindset on the dreams that have been in my heart and identify the walls that have been preventing me from achieving them. I would HIGHLY RECOMMEND her to anyone! SHE'S A HUGE ASSET as she leads through the coaching program."
Here's what happened for Gigi within a short period of time…
Gigi was getting great results for her employer for many years, but had a burning desire to work for herself, move to the countryside + work online:
She left her job, launched her 1st business, secured multiple 5-figure clients within 2 weeks, moved to the countryside, started working remotely (including with her first team member) and is now excited about her days, business and life!
Flavia Lamattina
Corporate Training Manager
"I have no words to express how valuable your time and genuine desire to help were - guiding me with certitude, and preparing my mindset for this next chapter. I now have a NEW JOB, a career plan, a 50% INCREASE in INCOME while working less hours... plus, I feel less stressed, happier and IN CONTROL of MY LIFE! None of this would've been possible without your support, expertise, and knowledge about mindset, paradigms, GOAL SETTING and ACHIEVING. Thanks so much for the opportunity to grow! You're my lucky rabbit's foot!"
Sonja Mitchell
Retirement Transition Educator
"Elizabeth has a unique skill that gets you out of your own fog to finding your absolute clarity. She consistently helped me break down my mountain of tasks into digestible chunks, gave me priceless advice and tips whilst guiding me on my path, made me accountable, yet cheered and encouraged me every step of the way to my eventual success. Trust and believe that Elizabeth will be efficient and effective in helping you find a solution + provide the right advice and direction so you can attain your goals. She did for me, and she will for you! Already looking forward to our next session – she's brilliant and really knows how to light a fire!!!"
Nogol
Madani
Glee Factor Founder
"Beyond-amazing coaching skills and authentic leadership, I have been able to turn my dream project into a business. Her insightful business tips combined with her life coaching lessons helped me enormously handle uncertainty, risk, and self-doubt while taking the crucial steps".
Lama Hamad
Founder & CEO of TasteHelper
"She is a fantastic business coach, with an amazing can do attitude that keeps you motivated and inspired. She consistently provides practical business advice and has helped me problem solve in a way that breaks it down to simple actionable steps. She's highly supportive, extremely kind-hearted and has consistently brought value".
Here's what happened for Marlene within a short period of time…
Marlene was stuck in the same annual income band of approx. 35K for too many years despite over-delivering and being a kick a** expert in her field. From the get-go I made her identify financial goals which included her target of doubling her revenue that year (which she later confessed made her feel really shaky and overwhelmed).  
We then moved forward with creating a game plan that was aligned with her potential and what's possible for her in her business (yes, even during a pandemic).
After she achieved her initial goal within approx. 9 months, since there were still a few months left before the end of the year, we even threw in a "stretch goal" for Q4 which had her building out a team. The short 'n' sweet outcome:  she nearly tripled her income for the year (almost hitting 6 figures by end of year), bought her first home, was booked out to the following year with clients and contracts + also established herself as a leader in her field!  
Barbara Kraemer
Spiritual Healer
"Elizabeth's a phenomenal coach. She saw beyond the stories of self-pity and lack of confidence that I first came to see her with and instead stirred me swiftly and confidently towards discovering my inner power. She's been transformational for me, has helped me to shape a clear path by formulating life and career goals. Elizabeth has a wealth of information inside her, from which she generously shared with me in a friendly, warm-hearted manner, that made me feel immediately trusting and willing to put in the work! I'm forever grateful that our paths have crossed and will keep her wisdom close to my heart."
Sabrina Antonelli
All Voices International Co-founder
"Elizabeth knowledgeable, smart, focused and always gives us very useful suggestions at so many levels: sales, marketing, image, networking as well as day-by-day procedures. She's helped us grow as entrepreneurs in a new environment with insight and support, while challenging us in her lighthearted way to change what needed to be changed. In two words: she cares. Last but not least, Elizabeth is fun to work with, she's energetic and has a great sense of humor. We couldn't be happier and strongly recommend this valuable professional."
Rachel Beaney
Social Media Strategist
"Elizabeth's been transformative in helping me get my business from a dream, into something that is sustainable and growing long term. With each meeting she's given me practical advice for each step of my path, new ideas, support and encouragement on a personal and professional level. Without her guidance, I'd be missing not only solid business fundamentals but tactics that work in the real world to build a strong business."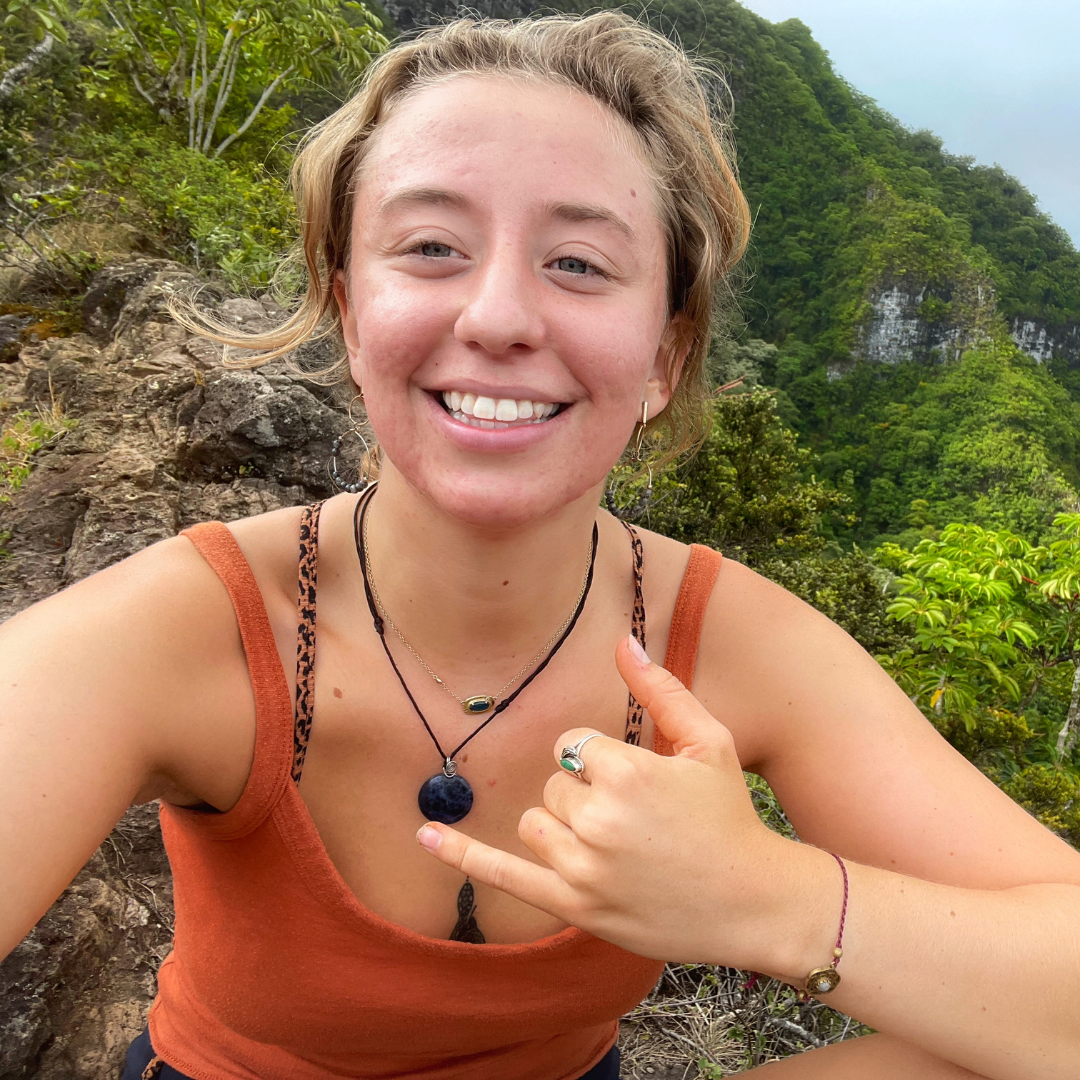 Brooke Sefton
"Before our coaching, I'd have a lot of dreams and wants but struggled to make the plans concrete and take real steps towards. Now, I feel more able to sit down and call my dreams plans rather than wishes. My biggest win so far has been moving to Hawaii!! This had been a lifelong goal which I achieved within 10 weeks of working with Elizabeth. The sessions have also taught me to become more aware of limiting mental patterns. I trust myself deeper and make my decisions more based on why I will succeed rather than why I will fail. Without self trust and belief, this wouldn't have happened! I'm eternally grateful for what we have developed together so far."
Interview with Brooke
Adriana Greenblatt
ALG Consulting
"I cannot recommend her highly enough! Elizabeth's been supportive in the most empowering way; thoughtful, honest and direct and highly skilled at business strategy. She has this knack for getting to the heart of the matter; she'll be authentic and to the point with you and ask you just the right questions to encourage growth and motivate, motivate, motivate. This combined with her commitment to a growth mindset and applying all the learning she discusses with her clients to her own life, makes her an invaluable coach! Highly recommended!"
Shantell Stillwater
"I'd come to a crossroads in my life that had really brought me down and therapy wasn't as helpful as I hoped nor the type of growth I needed and was looking for. So, I sought out something to help me fulfill my life in other ways… but I knew first I needed to focus on myself before I could feel completely happy again. Someone mentioned life coaching and having been intrigued with it in the past, I googled life coach.
Elizabeth pulled up amongst others. I scrolled and read for hours only to find Elizabeth was in-tune with an idea I had for my growth and business but didn't know how to achieve. At the time, I didn't even really know exactly what I was looking for. I knew I wanted to focus on principles I'd picked up on in the past from other very successful people and books, but I didn't know how to reapply them.
After working with her in just a short period, she not only helped me to realize my self worth but also my full potential. After just 3 months of applying everything, I doubled my income and feel like my happy self again!
She helped me to become clearer on my business and personal goals, as well as learn more about how I react to things and how to reprogram the negative self talk or actions we sometimes all fall victim to.
Each new lesson was the solidification I needed to be able to establish more for myself. They helped me gain so much self clarity on top of achieving goals I never felt was possible to accomplish. The best part is she provides access to tools to use for the rest of your life so you can turn back to them at anytime.
She's not only helped me get clearer on my purpose, but also to conquer my internal mental blocks that kept getting in my way from my higher self worth.
If you're ready for change in your own life, I highly recommend Elizabeth. She's amazing at helping you to grow into you higher, better self!"